Rose water is a flavoured water made by steeping rose petals in water. Additionally, it is the hydrosol portion of the distillate of rose petals, a by-product of the production of rose oil for use in perfume.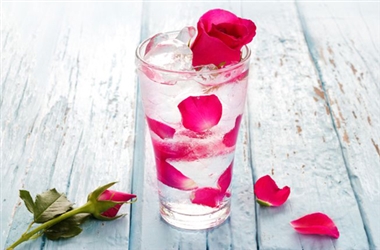 In Malaysia and Singapore, sweet red-tinted rose water is mixed with milk, making a sweet pink drink called bandung. In other countries, it is added to tea, ice cream, cookies, and other sweets in small quantities.
Cosmetic and medicinal use
  In medieval Europe, rose water was used to wash hands at a meal table during feasts. Rose water is a usual component of perfume. A rose water ointment is occasionally used as an emollient, and rose water is sometimes used in cosmetics such as cold creams, toners and face wash. Its anti-inflammatory properties make it a good tool against skin disorders such as Rosacea and eczema.
   Some people in India also use rose water as a spray applied directly to the face as a perfume and moisturizer, especially during the winter; it is often sprinkled in Indian weddings to welcome guests.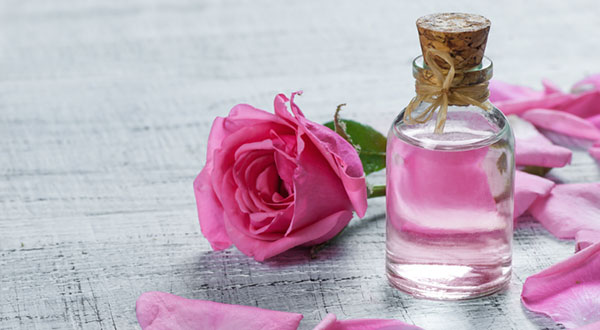 Rose perfumes are made from rose oil, also called attar of roses, which is a mixture of volatile essential oils obtained by steam-distilling the crushed petals of roses. Rose water is a by-product of this process. The cultivation of various fragrant flowers for obtaining perfumes, including rose water, may date back to Sassanid Persia, where it was known as golāb (Middle Persian: گلاب), from gul (rose) and ab (water). The term was adopted into Byzantine Greek as zoulápin. The process of creating rose water through steam distillation was refined by Persian and Arab chemists in the medieval Islamic world which led to more efficient and economic uses for perfumery industries.